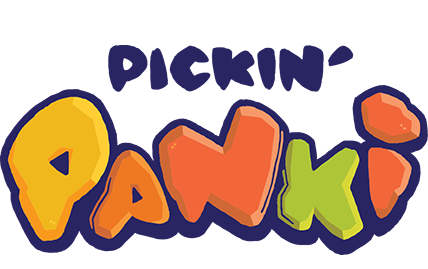 Pickin' Panki DEMO

UPDATE 2018-10-08
The demo has reached its first 100 downloads! Thank you for the support and feedback! And do look forward to more updates and info in the upcoming months.
---

Join our young adventurer to discover exciting new places across the ocean. Explore jungles, caves and snowy mountains. Battle monsters, hunt for treasure and snack on tasty treats!
Game info
The focus of this game is exploration, discovery and reward. It aims to capture the simple look and feel of games like Link's Awakening and Kaeru no Tame ni Kane wa Naru.

EATING: There are many types of food in this world. The kid never has to go hungry. When you eat something it will increase your maximum energy limit. The increase varies depending on the type of food, but every little piece matters.
FIGHTING: When standing face to face with a monster it is time to test your strength. The fight command makes the kid engage the monster, but the method of attack is all up to him. The kid will lose energy whenever he takes a hit. If his energy meter gets low he will not try his very best. Restore his energy by giving him fruit drinks.

EXPLORING: Sometimes you will stumble upon a mysterious hole or a cave. You can explore these at your own pace! The kid is so strong he can shatter rocks with his bare fists. This lets you dig through walls and dirt that may seem impassable at first. A curious adventurer may find both food and treasure hidden deep underground.


* The full release of the game will include a 40-page instruction booklet. Complete with item descriptions, sneaky game hints, as well as character art and profiles. A handful of pages are included in the demo version.

Development
Design and development - Harkenman
Music - Teodor Dumitrache
Download
Download
Pickin' Panki v.0.2 DEMO.RAR
124 MB
Comments
Log in with itch.io to leave a comment.
Awesome! Thanks for covering my game! There' s a cave exit if you keep digging. And also a second island to explore after that.

Game is still being worked on. It's nearing completion and should be out early next year.

Really happy to hear some news about the game didn't know if it was still happening or not since it's been so quiet. Love the game mainly the characters fighting animations he has sooo many different attacks. Love to play the game again when it comes out and actually make it to the next island.
This game looks beatiful, reminds me some 16 bit games for the snes.
fantastic style, works really well! :D
This game looks so good! Is there any chance of a Linux export?
Very good game so far, but I seem to be a bit stuck at the second world
Thank you! Aside from the main dungeon, most of the second island is open to explore. But first you need to get an item from a certain NPC.

Cool demo. Hope you keep it up. It's got a very cool look.

Thanks for covering my game! The demo goes on for quite a bit longer, actually. The box in the cave has the item you need, then give it to the mouse

The download doesn't work for me